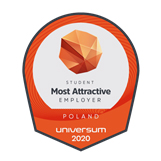 As a result of our employer branding activities focused on academic field, we maintained the leading position in Natural Sciences category, where we overtook such brands as, among other, Google, Ziaja, L'Oreal.
We received this special award on June 17th, during the Universum Awards 2020 ceremony, where we were appreciated by over 16 thousand students from 71 universities in Poland.
In the Health/Medicine category we are ranked as 8th among such institutions as: Central Clinical Hospital of the MSWiA in Warsaw, Ministry of Health, Luxmed Group. Compared to last year in the Category, Polpharma has moved on 3 positions upwards.
Thank you all. This is our common success!
Kasia Bieńkowska
HR Director Polpharma Group