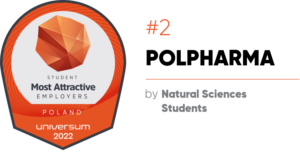 Polpharma on the podium again! This year, we took second place in the "Most Attractive Employers Poland" ranking in the category of Exact Sciences.
Students once again chose Polpharma as the Employer of Dreams, awarding us 2nd position in the Sciences category in the prestigious Universum Award 2022 survey. In this year's ranking, we ranked right behind the winner, Pfizer.
In the Health/Medical category, we are, as in the previous year, on the 11th position among such institutions as: Medicover, Central Clinical Hospital of the Ministry of Interior and Administration, Luxmed Group or Enel-Med Medical Center.
This year, 16,000 people took part in the Universum Award survey. students from 77 universities all over Poland. We are particularly proud that every year students choose us as a company whose activities have a positive impact on the world, as well as as a place where they would like to work and develop.