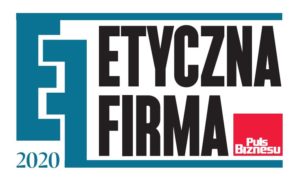 The winners include the most active and effective companies in the field of ethics and CSR among all Polish businesses.
An essential element of the evaluation was the quality of the ethics management system – something Polpharma had been developing for years, relying on its ethics and anti-corruption programme, as well as its compliance policy.
Another important aspect was Polpharma's work to assist employees and the general public in areas such as combating the COVID-19 pandemic. Justifying their choice, the competition organizers referred to this aspect stating that "despite the challenges faced by the company during the pandemic, it managed to ensure patients had access to the medicinal products it manufactures. The company has been working with the Institute of Bioorganic Chemistry of the Polish Academy of Sciences to improve a genetic test designed to help distinguish between SARS-CoV-2 and flu virus infections. Polpharma funded ca. 40,000 meals for hospital staff, donated 100 ventilators to 63 hospitals and provided personal protective equipment to healthcare professionals."
Twenty-three companies among the 116 contestants were recognized in the seventh edition of the competition. Twelve received the Ethical Company title, nine were named Super Ethical Companies (having won the Ethical Company title for three consecutive years) and two received an Ethical Special Mention.